As many, I have been remembering the tragedy of 9/11.
While I refrained from watching any of the multitude of documentaries over the course of the week, I committed myself to re-exploring this painful chapter of our common history yesterday.
On this tenth anniversary, I was surprised, yet appreciative of the diversity of new perspectives available. In particular, I was especially struck by a piece titled,
The Children of 9/11
.
An excellent work, highlighting the lives of several children who lost parents in the devastation of the World Trade Center and Pentagon attacks, the crash of Flight 93. Of varying backgrounds and ages, with beloved lost parents who were firefighters, who worked in the World Trade Center and Pentagon, their stories were both unique and entwined with common threads.
As one would expect, each of their stories was different; some had lost their parents as infants and a significant part of their struggle involved the unknown void that will never be filled, despite the valiant efforts of their surviving parent. Other children who were interviewed were significantly older, left with clear memories of a mother or father whose cherished relationship was ripped away at a time when their presence was so important. As well, children of tender age, were presented, whose chronological sophistication, both then and now, leaves them in a state of limbo, with full understanding yet to come as they mature.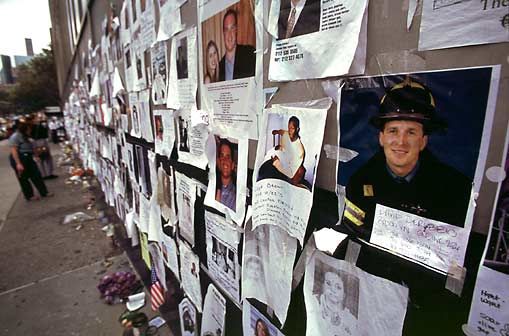 Picture Credit
I was, at once, struck by both a comfort as well as grave realization. While I in no way consider my families tragedy to be on the same scale as those who lost loved ones in the catastrophic events of September 11, 2001, my pain, almost a year later, is still so fresh, so raw...
While many of these children, these left behind victims yet struggle,
with so many unanswerable questions
with survivor's guilt
with inability to connect
they survive.
Their survival is inspirational
and their continuing struggle
helps me to know
while my family's struggle will evolve
it will always be a part of us.
This morning, after realizing that my 10 yr old son, only seven months at the time at the time of the tragedy, had limited, if any knowledge, of what had transpired. After carefully selecting a different documentary, we watched it together, pausing for poignant discussions, covering all manner of related and side topics. ronically, as the documentary concluded, we heard sirens, first one, then more.
As we stepped outside to listen, my son asked, "What is it, Mom?".
"Now is the time that it happened," I replied. "The firemen, our first responders, are honoring the people that died that day,".
He nodded and held my hand, as we looked out over the tree line, toward the fire station.
On his face, I saw a glimpse of the man he will become.
Our discussions this morning led us to topics of safety, as well as probabilities, as I sought to leave him with a sense of security, yet not completely dispel some of the harsh realities of the world we live in. In this spirit, and in honor of the victims of 9/11/2001, I introduce the survivor's organization,
Tuesday's Children
.
Let our past change the future.
Tuesday's Children is a non-profit family service organization that has made a long term commitment to every individual impacted by the events of September 11, 2001 and more recently those who have been impacted by terrorist incidents worldwide.

Since 2001, Tuesday's Children has promoted healing and recovery by strengthening family resilience, providing individual coping and life management skills and creating community through programs, mental health support and family engagement opportunities.

We have earned an unprecedented level of trust with the children and adults we serve by knowing what works. Our programs reinforce strong relationships and build new skills while facilitating the ongoing healing process.
I am honored to both introduce and promote Tuesday's Children. This organization is not only dedicated to facilitating and fostering the recovery of the child victims of 9/11 but further fosters growth, hope and understanding. Please see the group's art project,
Postcards for Peace
, on exhibit at the World Trade Center Tribute Center in New York City via the page tab at the top of this page.
Keeping Your Child Safe ~ Supporting Tuesday's Children
As a strong proponent of children's safety, SafeKidZone is hosting a fundraiser to assist Tuesday's Children in continuing to provide support and programs for the children it serves.
SafeKidZone transforms the cell phone into the most advanced personal safety device by placing a Panic Button on the cell phone. When you need help, SafeKidZone connects everyone who knows, loves, and cares about you, it's 24x7 Emergency Response Center, and even 9-1-1 if necessary.


When the Panic Button is pressed SMS, eMail, voice and video alerts are immediately broadcast to those that care most. The broadcast includes location, location history, vital information, and a direct link to the nearest police station if necessary. The Safety Network and our 24/7 Response Call Center are all connected in a live conference call for your safety and security.

Your Emergency Safety Profile includes vital statistics, GPS location and a current photo of your child which can be immediately delivered to the nearest 911 responders if necessary.

SafeKidZone can also guide you from danger. It will inform you of the Threat Level contained in your exact location which includes crime level, sex offenders, neighbor contributed danger zones and other relevant information.
In honor of those fallen in the tragedies of 9/11 and to support those left behind, SafeKidZone is offering subscribers an opportunity to both protect their loved ones and support Tuesday's Children. For all new SafeKidZone full feature subscriptions, initiated during entry period 9/11/11 to 10/10/11, SafeKidZone will donate $1.00 per month for subscription periods from 9/11/11 to 9/11/12.
Please use code
tuesdayschildren
to ensure your contribution.
Thank you to SafeKidZone for sponsoring this post and introduction to Tuesday's Children. The opinions above are both honest and my own. Images and information sourced from various Tuesday's Children sites.