Growing weary in the hunt for unique, quality gifts? Growing tired of finding the same offerings in all your local stores? This Mom certainly has experienced the Gift Shopping Grumps.
With so many to buy for each year, from Mother's Day, to Father's Day, birthdays and for holiday gift giving the hunt for the perfect, unique gift had been half the fun!
Tiring of the cookie cutter commonality, I was thrilled to discover the diverse and eclectic collections at Uncommon Goods! Better yet, so many of their featured products are handcrafted and eco-friendly! Score another for going greener!
As I am currently on the prowl for just the right Mother's Day gifts, for Moms who certainly have all the essentials but have a twinkle in their eye when presented with an unexpected and unique gift, my only difficulty is in choosing between the fabulous offerings from Uncommon Goods!
Recycled, Handmade Fire Extinguisher Vases
My Mother loves to entice hummingbirds to visit her summer garden. With numerous, striking feeders with in their collection, Uncommon Goods is a source I'll depend on again and again. With boutique offerings at extraordinarily reasonable prices, creating an eco-friendly basket of outdoor and garden gifts for Mother's Day would be easy within my typical budget!
Ceramic Counter Top Compost Set
Handmade by Beth Mueller
Beyond perfect gifts to pamper Mom this spring, Uncommon Goods offers collections of items just right for every occasion, as well as everyone on your list! Inspired by the discovery of Wildflower Seed Bomb kits, this Mom couldn't help but to give them a try. With an under-loved area near our neighborhood, my son and I have planned to include spreading these seeds of hope to beautify the area for Earth Day, along with our other annual earth friendly efforts! Watching the progress of our guerilla gardening effort will be something we look forward to and share together all season. Uncommon Goods has thoughtfully offered a variety of Seed Bomb kits, designate your regional area during the ordering process!
Wildflower Seed Bombs

Help the grass stay greener on the other side of abandoned fences with a beautiful new concept in urban landscaping called "guerrilla gardening." Simply throw and grow! Choose from six pouches packed with five ready-to-grow seed balls, each suitable for one U.S. region. Each reusable muslin pouch holds five seed balls made from clay and worm castings to enrich depleted soil.
While thinking of my son and how much he has grown this past year, now the ripe old age of eleven, I simply couldn't pass up an opportunity to present him with an important young man first ~ his first young man wallet! Along with this special milestone gift, this Mom captured the opportunity to reinforce our family's pledge to seek out more responsible choices to maximize the green factor in our family footprint. Selecting a handcrafted and recycled wallet proved an excellent way to illustrate that style and responsibility are not exclusive, rather, easy to find when you know where to look!
Recycled Bike Tube Franklin Bi-Fold Wallet
Stylish, sleek and water resistant ~ the perfect first wallet for a discerning young man! Created from recycled inner tubes and of 99% recycled materials, this is a gift that gives more.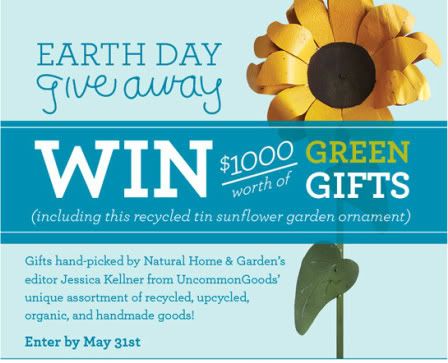 Join the Uncommon Goods Earth Day Celebration! Explore the fabulous green gift collection at Uncommon Goods and enter for a chance to win over $1000 in green gifts! Be sure to enter before May 31st!
Stay In The Know
Uncommon Goods is generously offering That's What She Said readers an exclusive opportunity to win a $50 gift certificate to select and enjoy their own green gifts!
Handmade, Recycled Glass Tree Globes
This giveaway is open to residents of US, 18+ and will end on Sunday, May 20, 2012 at 12:01am EST.
I was provided with green gifts from Uncommon Goods to explore for the purposes of creating this feature. The opinions above are both honest and of my own experience. Some information and images sourced from various Uncommon Goods sites. Sponsor is responsible for supplying and shipping prize. Facebook, Google+ and Pinterest are not involved in, nor responsible for this giveaway in any fashion.