Welcome to
Take Over Tuesday Social Media Hop
Gain Friends and Followers
In All The Right Places
Your Hostesses are: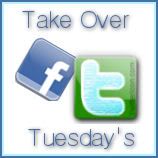 Add your link to any or all of the Social Media Follow Groups below!
Follow as many people as you would like and be certain to leave a comment on their page to let them know you are a fan!
Please be certain to follow your hostesses.
Your presence and participation is appreciated and we will always follow you back!
We'd love for you to grab the Take Over Tuesday button to display on your site!
"I have a chaotic life that includes work, husband, 2 kids, and more pets than I care to admit. I am passionate about the environment but refuse to give up my high tech toys. I spend way too much on organic milk and local, grass fed beef but have a horrible Cheeto addiction and get quite agitated when there is no more diet Coke in the house."
Google + Linky
Facebook Linky
Twitter Linky
Pinterest Linky
Stumble Upon Linky
Please be certain to join us again next week for
~ Guests welcome ~
Would you like to be our Guest Host?
Please fill out our Guest Host form to be included in our weekly
Take Over Tuesdays Social Media Hop!